Product Description
Portable emergency power supply with LCD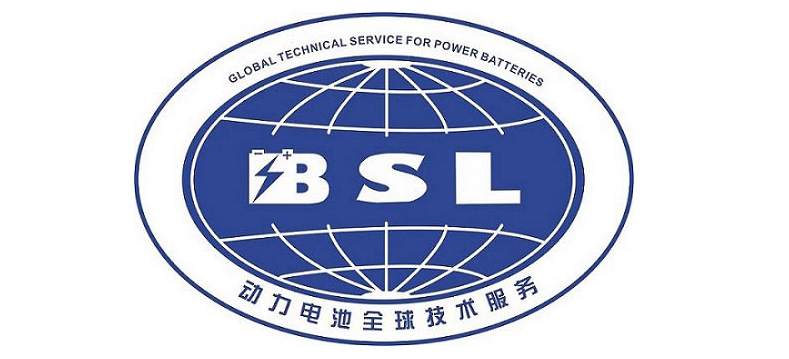 Function Introduction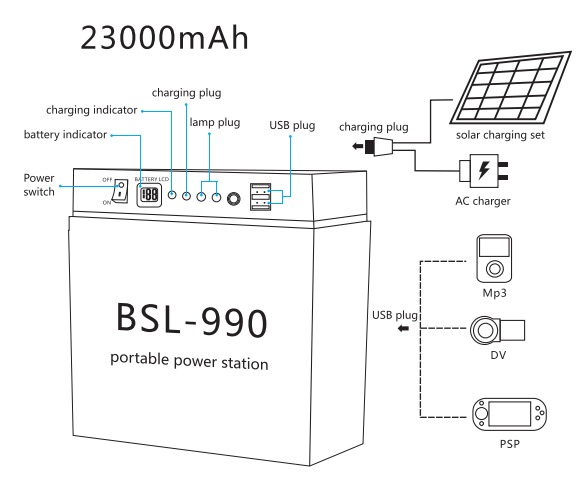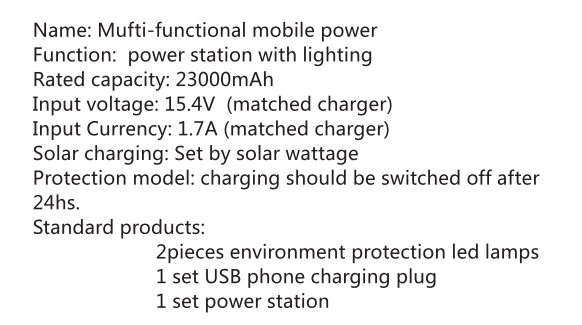 Function description of 12V power board
Switch on

When LCD displays 100% , the corresponding voltage is 13.1V.

When less than 5% and starts flash, the battery is running out of power. Pls charge ASAP.

When show non battery power data, the battery power has been exhausted,

it will enter the low voltage protection state. Pls charge ASAP.

When red light normally on, it means the battery is charging.

The red light flashes , it means the battery is fully charged.
DC5V (USB)output

The maximum output current is 2A, the 2A capacity shared by the 2 USB.

If exceeds 2A, it will start overload protection and stop outputting.

DC12V output

The maximum output current is 2.5A, three 12V plugs share a 2.5A capacity.

If exceeds 2.5A, it will start overload protection and stop outputting.
Cautions:
1>Cautions
A).Charging 3-5 hrs before use the power in first time;
B).Charging once every 2 months if put the power station in the stock;
C).Charging time not allowed more than 24 hrs;
D).Use the original charger for charging only;
E).when charging, it is forbidden to insert the charging plug into the output plug.

2>Battery capability indication:
1). When starting up and using, the battery indicator will automatically display the battery capacity;
2). When the battery shows less than 5%, please charge it before using it;
3).If the electric quantity is not shown, the internal circuit may fail, professional personnel are required to maintain it according to the operating instructions of the product;
4).Turn off the switch if finish using the power station.
3>.When Storage or using this product, please pay attention to water-proof, anti heavy object impact, fire-proof and inflammable objects.
4>.It is forbidden for non professional electricians to open the circuit board or disassemble the product.
5>.At the end of the service life of the battery, please store it in a suitable place to avoid environmental pollution. The old products will be recycled by BSL group. Detail Pls visit: www.bslbatteryserivice.com or Please follow local laws and regulations for scrapping.
6>This product weighs 7.5kg. Please pay attention to the injury caused by falling on the ground. Children are not allowed to touch and play with this product.


7>Warranty Notice:
1). The product can be guaranteed for three months free from the date of purchase.
2). The following situations are not covered by the free warranty:
A. Products beyond the free warranty period;
B. The products damaged by human activities are as follows: the surface of products is seriously scratched, twisted, deformed, and parts fall off;
C. Products that are disassembled or modified without permission;
D.Damage caused by accident, misuse or irresistible natural factors in any way.
Detail introduction for this products pls check our instruction manual.